Matrix Widgets
A Matrix Widget displays data from various Search Queries that are broken up into rows and columns. Use a Matrix Widget to show by fiscal year or quarter, the number of:
Incidents
Problems
Changes.
Each row can be:
A time period (example: A row for each month of the year).
A particular value (example: Each supported category).
Each column can be:
Determined by a Query (example: The number of Incidents closed in the specified month or for the specified category).
Calculated based on other columns.
A specialized display column for presenting data (a rating could show stars to represent a value, or a value bar could show how close to target a value approached).
Data can be pulled from multiple Business Objects and can be shown side-by-side.
The following figure shows an example Matrix Widget.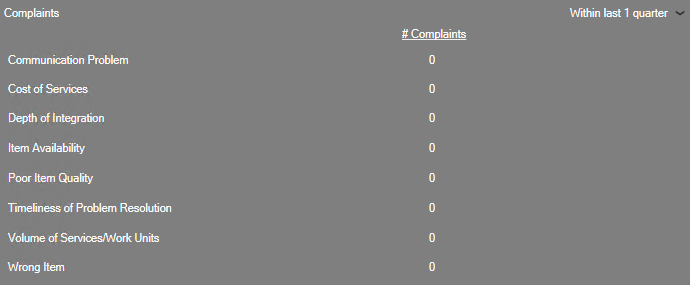 Good to know:
A Matrix Widget is highly configurable; define general properties (example: Title, associated Business Object, refresh rate, drill-down, and filter exclusions), rows, columns, and appearance.
By default, a Matrix Widget acquires its text, color, border style, and background style properties from the defined Dashboard Theme; however, you can define your own properties, if needed.

Refresh executes only when a Widget is active and being displayed. If you leave a dashboard and come back to it, the data will be automatically refreshed and the refresh timer will start over.

Use refresh on Widgets where the data is likely to change (example: A Widget displaying Incident data).
A Dashboard's Refresh properties determine whether or not to 1) use the Dashboard's scheduled refresh instead, and/or 2) allow its Widgets to refresh themselves in addition to the Dashboard's scheduled refresh. For more information, refer to Dashboard Refresh in the Dashboards documentation.