Deploying Third-Party Applications
Click here for information on how to scan for third-party applications.
You deploy (install) third-party applications to selected machines in the exact same manner that you deploy missing patches to selected machines. Security Controls will treat the missing application exactly like a missing patch and will simply install the application on the selected machines. Here's an example showing how to deploy a third-party application from Scan View. The procedure is very similar using Machine View.
1.Select the third-party application you want to deploy.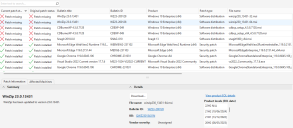 2.Right-click the selected application and select Deploy > Selected Patches.
3.On the confirmation dialog, click Continue with Software Distribution.
The confirmation dialog is presented to ensure that you don't inadvertently install a new application on the selected machines. You continue the deployment as normal using the Deployment Configuration dialog.