Navigating Windows Patch View
Windows Patch View consists of several different panes. Each pane displays unique information and provides unique functionality.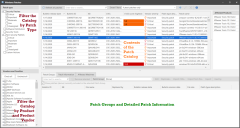 •The two left-hand panes are used to filter the content in the patch catalog. They dictate what patch content is displayed in the top pane.
•The top pane displays all patches in the patch catalog that are not filtered out by the two left-hand panes. You can apply additional filters, you can view information about individual patches and you can add patches to new or existing patch groups.
•Performing Actions on Patches
•Customizing the Column Headers
•The bottom pane displays the contents of any patch groups that you have defined. It also displays detailed information about the patch selected in the top pane.
•Creating and Editing Patch Groups
•Viewing Machines Affected by a Selected Patch
•Customizing the Column Headers
The top and bottom panes are interrelated in that the information presented in the bottom pane is dependent on what is selected in the top pane. This "top down" approach means you use the top pane to view high-level information and the bottom pane to drill down to more detailed information.