E-mailing Query results and Reports
You can e-mail a set of query results or a report created using the Query & Report Designer to one or more people. If your reports return a large amount of data, you can choose to schedule when they are generated and e-mailed to the relevant people. For more information, see Scheduling Reports.
The final results of the query are e-mailed, including any changes you make to the query results by adding additional filters or by specifying values in prompts.
The following procedure describes e-mailing a set of query results. You e-mail reports in a similar way, by first running the report, then right-clicking it and selecting E-mail Report.
To e-mail a set of query results:
Run the required query.
On the

Actions

list, click

E-mail Query Results

.
The Select Recipients dialog appears.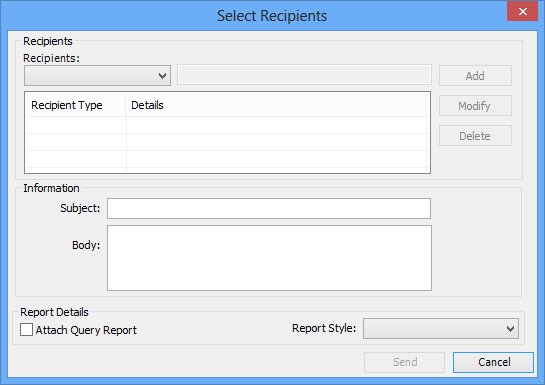 In the

Recipients

list, select the required recipient type, then select the required value and click

Add

.
You can also select Other e-mail address in the Recipients list, then type the required e-mail address and click Add.
The recipients appear in the list. You can modify or delete these as required.
In the

Subject

box, type the text that will appear in the Subject of the e-mail.
In the

Body

box, type the required text that you want to appear in the e-mail.
If you want to attach the query rather than embedding it in the e-mail, in the

Report Details

group box, select the

Attach Query Report

check box, and then in the

Report Style

list, select the required size.
Click

Send

.
The query results are e-mailed to the selected people.
---