Understanding the numbers
In this section, we are going to look at a short example to help us to understand some typical results that you will see.
Resolving shortfalls in Per Install entitlements
Products such as Microsoft Visio use a Per Install metric: you need a license for each installation. Consider the situation where you have installed Microsoft Visio 2010 Premium Edition on two computers, but have only a single license. You would see the following columns for Microsoft Visio 2010 Premium on your Data Summary page:
| Liability | Shortfall | Surplus | Compliance | Total License Qty |
| --- | --- | --- | --- | --- |
| 2 | 1 | 0 | 50% | 1 |
You have 2 installations but only 1 license, so you are missing 1 license (the shortfall), and you have a 50% compliance: half of your installations are not covered by a license.
If you hover your mouse over the Product column, a pop-up menu appears that says Jump to License or Software Information. Click the Software link on this pop-up menu to display the corresponding software records. From here, you can identify the OSIs that are running the software and so track down who is responsible for the OSI and therefore the apparently unlicensed software. Maybe they have a record of the license that they are using, in which case you can add this license record to your system and so remove the shortfall.
Downgrades
In the example above, we had a liability of 2 for Visio 2010 and a shortfall of 1 because we had only 1 license for Microsoft Visio 2010 Premium. However, if you have Software Assurance, any Microsoft Visio 2013 Premium licenses you have are downgradable and can be used to cover Microsoft Visio 2010 Premium. You set this on the Details tab for the license.
So, if we have 2 installations of Visio 2010 with 1 license for Visio 2010, but also have 5 licenses for Visio 2013 to cover only 3 installations of Visio 2013, the reconciliation will use one of our spare 2013 licenses to cover our extra 2010 installation. This leaves us with a surplus of 1 2013 license:
| Product | Liability | Shortfall | Surplus | Compliance | Total License Qty |
| --- | --- | --- | --- | --- | --- |
| Visio 2010 Premium | 2 | 0 | 0 | 100% | 1 |
| Visio 2013 Premium | 3 | 0 | 1 | 100% | 5 |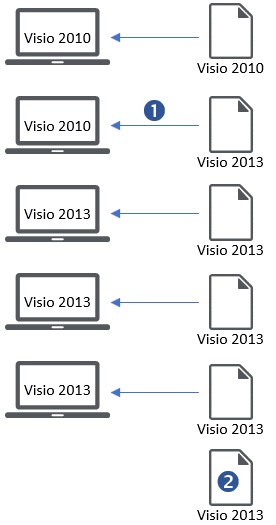 1 – a Visio 2010 installation is covered by a downgraded Visio 2013 license
2 – surplus Visio 2013 license
What's Next?

Now that we have discussed what our reconciliation results tell us, we can start improving our estimated license position: Correcting unknown editions
More information

•Data Summary – link to the Data Summary topic

•Editing licenses – link to the Editing Licenses topic, where you set whether or not a license is downgradable