About Performance Health Check
The Health Check Tool helps system administrators monitor and optimize system configurations that impact performance.
For example, use the tool to:
Find inefficient queries.
Find and fix mismatched Def IDs.
See which Business Objects can be set as cachable.
Send Health Check results to

Cherwell

Support for analysis on request.
Discover missing indexes for Business Object database tables that contain a large number of records.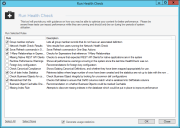 There are three levels of Health Check tests:
Basic: Provides information about your

CSM

system (runtime at the time the Health Check is performed, foreign key, Def ID mismatch) and the Health Check plug-in. Basic results are included every time you run the Health Check.
Rule-based: Provides information for the rules you select when you run the Health Check.
Usage Statistics: Provides system and database information not related to the rules you select when you run the Health Check. Examples include expensive database queries, wait statistics, and table sizes.
Run rule-based or usage tests alone or as a set.