Edge Intelligence actions
Ivanti Edge Intelligence actions enable you to quickly act on information you've received in response to your queries, or on an event you've configured in an alert.
Edge Intelligence comes with a range of built-in actions that are available in relevant query widgets. You can also configure custom Quick actions using one or more existing actions.
Start an action
You can start actions from the list view of a query widget. Click the vertical dots icon (

) and select the action you want to start.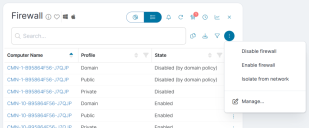 You can apply an action to all endpoints in the list by using the

icon above the list (see image).
To apply an action to one endpoint only, use the

icon at the far right on the desired line in the list view.
Manage Edge Intelligence actions
By default, some actions are listed with most Edge Intelligence query widgets.
To customize the list of available actions for a widget:, click the vertical dots icon (

) in the query widget and select Manage.
From the Manage actions pane that appears, you can:
Unlink

actions that are currently available for the widget

Edit

custom

Quick actions

that are currently available for the widget

Create a quick action

See how

Click

Create a quick action

.
In the pane that opens, specify an

Action Name

.
Select the desired actions from the list of actions.
Specify the configuration fields of the action.

Save

your changes.

The Quick action is now available for use with this widget.

Manage existing actions using the Ivanti Edge Intelligence Configuration panel.