Alert History
Alert History provides a way to view all of the alerts that have been issued by Patch for MEM, including alerts that are not enabled. To access this area, within the Configuration Manager Monitoring workspace, expand the Ivanti Patch folder and then select Alert History.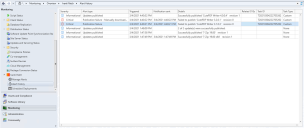 The following information is displayed within Alert History. You can use the column filtering tools to customize the information that is displayed.
•Severity: Indicates the severity that was set in the Manage Alerts workspace.
•Alert type: Indicates the alert type.
•Triggered: Indicates the time that the alert event occurred.
•Notification sent: Indicates when the email message was sent regarding the alert event. A notification occurs once per alert type until the alert is cleared in the Manage Alerts workspace.
•Details: Provides additional information about the alert event.