How Do I . . .?: Use The Power Management Feature
Show Me!
A video tutorial is available on this topic. To access the video, click the following link:
Overview Information
The power management feature enables you to control the power state of the machines in your organization. The primary reasons for using power management are to:
Prepare your machines for maintenance tasks
Reduce power and noise consumption
Reduce operating costs
Prolong battery life
To use the power management feature you do the following:
1.Initiate power management commands from either Machine View or Scan View.
Use the right-click menu to immediately restart, shut down, or wake up machines. See How to Initiate Power Management Tasks for details.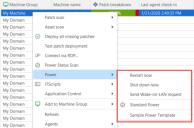 2.Track the status of power commands using the Operations Monitor.
See Monitoring a Power Task for details.
3.To schedule a restart or a shutdown you use a power management template.
See:
•Creating and Editing a Power State Template
•How to Initiate Power Management Tasks
•Scheduling Power Management Tasks
4.Before using the Wake-on-LAN feature be sure to read Wake-on-LAN Implementation Notes.
You can use the Wake-on-LAN feature to wake up machines that are sleeping, hibernating, or powered off. For example, you might want to wake up your machines during a maintenance window so they can receive critical security updates. Or you might schedule a wake-up call for a group of machines that you put to sleep the night before so they are ready for the work day.
5.Power management tasks can also be performed by agents.
See Creating and Configuring a Power Task for details.
6.Perform a power status scan to verify the updated power status of your machines.
See Performing a Power Status Scan and Viewing Power Status Scan Results.