Navigating the Interface
The Security Controls interface is designed to be simple yet powerful, enabling you to perform any number of activities quickly and easily. An annotated home page is shown here. For information about each area of the interface, see below.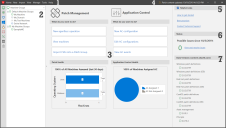 1 - The menu bar provides quick access to many of the functions of the program.
2 - The navigation pane displays whatever primary feature is currently selected. You can choose a different feature using either the selection box located at the top of the pane or the shortcut buttons located along the side. There can be only one feature active at a time. In this example the Machine Groups feature is the active feature.
You can collapse the navigation pane by clicking the

icon. This maximizes the size of the right-hand pane.
3 - This area of the home page provides at-a-glance statistics and links to some of the most commonly performed tasks.
TIP: Many of your everyday tasks are performed from the Agentless Operation page. You can access this page three different ways: (1) Press Ctrl+N, (2) Select New > Agentless operation, or (3) Click the New agentless operation link on the home page.
4 - This shows the date that the patch content was last updated. This is a configurable item and can be disabled using the Tools > Options > Display > Show patch content updates on main page check box.
If you click the date, the Patch Content Update Details dialog is displayed. Use this dialog to view more detailed information about the current patch data and about previous patch data releases. This newsfeed will also be used to display important security-related news and messages from Ivanti.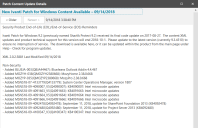 5 - This area provides you with some links that will help you quickly get started with the program.
6- This area displays the number of possible issues that have occurred within the program since the specified date. The issues may or may not require administrative action. The number of days' worth of issues to show is a configurable item; see the Recent errors option. If you click View and resolve issues, you can review the list of issues within Event History.
7 - This areas shows the versions of the data files currently being used within the program.