Navigating
License Optimizer
You navigate around License Optimizer using the menu bar on the left, and the Account Details section at the top right. To return to the home page, click the Ivanti logo at the top left. Many commands are available from gears menus throughout the system.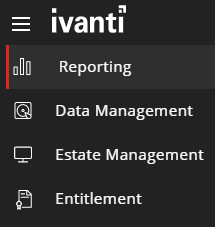 Click

icon at the top of the menu bar to show and hide the category headings alongside the menu bar icons. Click a category heading to show and hide its sections. To switch to the classic menu, use the toggle in the title bar.

The Account details section at the top right of each screen shows the account you are logged in with and the License Optimizer tenant you are using. Hover over the gear logo to the right of the user and instance name to see the Account menu, which enables you to:

In-page or in-line configuration options are contained in gears menus. Hover over a gears menu to see the available options for that menu.
Gears menus are either 'page-level' or 'in-line' gears menus. Page-level gears menus contain actions that apply to the page or grid as a whole. In-line gears menus contain actions that apply only to the row or line against which they are displayed, and do not affect other areas.