Navigation
The Xtraction web client is made of the following interactive areas. Read more about these areas below: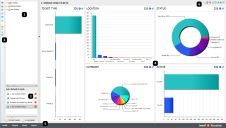 Storing items as favorites
You can store items you want to view regularly in one or more named Favorites folders. By selecting a folder as the default, the contained items will load on startup into the Auto Refresh & Cycle list for easy access.