Dashboard Designer
You must have designer-role rights to create and edit dashboards with this tool.
You can use the Dashboard Designer to create real-time, interactive dashboards of your target data sources' data. Each connected data source, as well as the Xtraction data model your administrator has set up, determines the data (components) available for adding to a dashboard. A dashboard can contain one or more available components selected from the eight component types. To understand more about components, see About components.
The best way to get started on a basic dashboard is to see Creating a dashboard in one easy procedure, though the general process is this:
With a target data source selected, expand the navigation pane's components list and drag and drop one component at a time onto a pane of the dashboard design canvas. The number of panes is determined by the layout you select in the dashboard properties dialog. To change the content in a pane, just drag and drop a new component on top of the current one.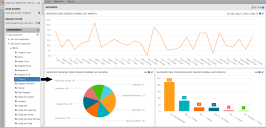 Dashboards are meant primarily for onscreen viewing, though you can export the content into a variety of formats to share with others.
To quickly copy all elements of an open dashboard to the Document Designer, click Tools > Copy to document. This action automatically opens the Document Designer with the dashboard elements displayed in the right components pane. From here, you can edit components as necessary before exporting.
Learn how to