Getting started
Xtraction is a visualization software that simplifies the status reporting of your various IT application databases by aggregating the data into interactive, real-time dashboards—all from a single web-based interface. You can share these dashboards online or export to various file formats, schedule regular exports of the data, and define notifications to keep track of status changes.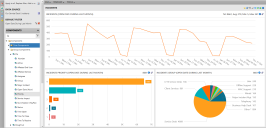 Xtraction has a number of tools that enable you to extract and manipulate the data from your connected data sources; access to these tools is determined by the user-role rights provided by your administrator. The tools are as follows:
•Dashboard Designer: If you have designer rights, you can create real-time, interactive dashboards and status reports for one or more data sources within a single view.
•Document Designer: If you have designer rights, you can export data content into other formats, such as MS Word, Excel, and more.
•Report Designer: An Xtraction tool for the most advanced users with designer rights. Create custom reports using standard SQL statements that run outside of the Xtraction component framework.
•Task scheduler: If you have enterprise designer or scheduler rights, you can schedule periodic exports of any item (dashboards, documents, and reports) in formats such as MS Word, Excel, and more.
•Alerts: If you have alert user rights, you set up notifications for keeping track of status changes to your data-source information.
The Xtraction tool you'll use most often is the Dashboard Designer. To get started creating dashboards, see Creating a dashboard in one easy procedure. For more in-depth topics about the UI and Dashboard Designer, see:
•About the Xtraction web-based interface
Tell me about

The Xtraction environment
The Xtraction environment is made up of these parts:
•The Xtraction server running under Windows, with the Xtraction database created in Microsoft SQL Server. The Xtraction application and its database can be installed on the same server or separate servers.
•Target data sources held in any combination of Microsoft SQL Server, Oracle, Sybase, Informix, MySQL, DB2, PostgresSQL, NexusDB, or Teradata. These data sources can be installed on a single database server or on separate servers.
•The Xtraction web-based user interface, accessible from client devices for viewing and interacting with Xtraction.

Logging in/out of Xtraction
To access Xtraction, open a web browser (Chrome is recommended) and enter the URL provided by your administrator. Typically, the default URL is:
http://[SERVER]/Xtraction/ (where [SERVER] is the name of your Xtraction server)
For Windows authentication: If you're already authenticated to the domain, you shouldn't have to re-enter your credentials. But, if prompted, enter your Windows user ID and password.
For Local authentication: Enter the username and password provided by the administrator. Once you're authenticated, the Xtraction application window will open. Your access to the features is governed by your user rights.
Logged-in users have a session timeout period that is set by the administrator. This ensures that if your session is inactive for a certain amount of time, an automatic timeout will occur and release your license for someone else to use. Note that directly before the timeout occurs, a pop-up dialog will display with a countdown enabling you to cancel it before the session ends.
The best way to log out is to use the Logout option at the bottom of the window to immediately release your license for others to use. You can also log out by closing the web browser, but your license may not be immediately released in this case.

Resetting locally stored authentication settings
On the Xtraction logout page, there's an option to reset your locally stored authentication settings. If you do that from this page, all stored authentication items will be cleared, and you must log in again.
When this option is used, two things are cleared locally:
1.Your login data is cleared from an authentication cookie—data such as user ID, session ID, time zone, and so on.
2.If multiple authentication providers are configured, this action clears the provider that you last selected on the device.
If you're using Windows Authentication, you should be able to log back in to Xtraction automatically by clicking the Click here to login again link on the resulting page, though your browser type and configuration will determine if this works:
•If your browser is configured to automatically pass the current credentials back to the web server, you're not prompted for anything and login is automatic. IE usually works this way in corporate environments.
•If your browser is configured to NOT automatically pass the current credentials back to the web server, you're given a chance to use different credentials. You'll be prompted by the browser—not by Xtraction—for the Windows username and password, which are then passed to the web server. Firefox and sometimes Chrome tend to work this way in corporate environments.