Tour a Dashboard
Dashboards are highly configurable so no two Dashboards necessarily look or behave alike.
The following figure shows an example Dashboard. The individual components are different kinds of Widgets.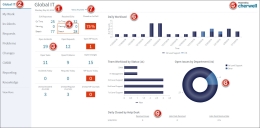 Text Widget (Expression-driven): Displays the current day and date.
Link Widget: Opens another Dashboard (ex: Global IT Dashboard).
Gauge Widget with Text: Displays the current number of open records (ex: Open Incidents) by type.
Gauge Widget with Text (Expression-driven, text, and visibility): Displays alert when a threshold is passed (ex: SLA warnings and breaches).
Image Widget: Displays a custom image (ex: company logo).
Chart Widget (Stacked Bar): Displays workloads by department.
Filter Widget: Filters all Widgets by time (ex: Today, Yesterday, Within last week, etc.).
Chart Widget (Doughnut): Displays Incident workloads by department.
Matrix Widget: Displays daily record closure rates.
The following types of Widgets are also available for use on Dashboards: