Blueprint Editor
The Blueprint Editor is the built-in interface within CSM Administrator that allows you to manage System Objects, Business Object data, Items, Blueprints, and Blueprint tools/functionality.
When you create and work with Blueprints, the CSM Administrator interface changes to the Blueprint Editor.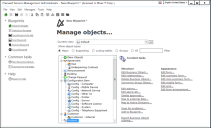 Use the Blueprint Editor to:
Manage System Objects: Create, edit, and delete Business Objects, Fields, Forms, and Grids. System Objects are managed using the Blueprint's powerful Object Manager and Object Editors, which are accessed from the Blueprint Editor main window.
Manage Business Object Data: Create, edit, and delete data from Supporting Objects and Lookup Objects using the Data Editor.
Access the Definition Reviewer: Quickly review and modify Forms, Grids, and Form Arrangements for all Business Objects or for those elements that have changed in the current Blueprint.
Manage

CSM

Items: Create, edit, and delete Dashboards, Search Groups, etc. at a system level to keep them secure.

CSM

Items are managed using the various

CSM

Item Managers.
Access the following Blueprint tools/functionality (click

Tools

from the Blueprint Editor menu bar):

Configure Directory Services integrations: Configure the integration between

CSM

and various Directory Services (example: Active Directory, LDAP, etc.).
Export a Blueprint Schema: A Blueprint Schema is a collection of meta-data that is exported from your system as a single document (.html, .rtf, .txt, or .xml) to textually expose your Business Object definitions and database structure.
View the Blueprint Publish Log: A Blueprint Publish Log contains detailed information about Blueprints published to your system.
Define global database settings: Global database settings include timeout values, foreign keys, Transaction Log settings, and Form/Grid display settings.

Manage Blueprints: Save, scan, publish, and close Blueprints using the tasks in the Task Pane.