Assessments Page: Overview
Summary: A high-level overview of the Assessments page in Ivanti Neurons.
Assessments are a snapshot of a certain point in time relating to the data within Ivanti Neurons. This list view will provide the user with system-generated assessments that have been created and user-created assessments.
| Assessment Type | Icon |
| --- | --- |
| System-Generated Assessment | |
| User-Created Assessment | |
These icons are also displayed in the list view and are a crucial component of running Update Remediation by Assessment (URbA). Essentially, it takes the current state and status of all hosts and vulnerabilities for a specific point in time and compares that with the data from the last assessment. Based on that data comparison, the platform can evaluate if hosts and vulnerabilities have been closed, opened, or reopened.
Who can use the Assessments page?
The ability to view the Assessments page is available to users with the Core Read IAM privilege. The following IAM privileges are associated with the Assessments page.
Assessment Upload Read: Download and view uploaded assessment files.

Assessment Control: Create and delete assessments.
Overview
The Assessments list view shows all the assessments within the platform. You can find this by navigating to the Organize > Assessments page.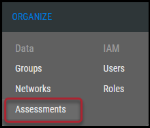 Filters: As with other pages in Ivanti Neurons, you can apply filters to the Assessments page.

Refresh: Click to refresh the page and view any changes made.

Create: Click to create a new assessment. For more information, see Creating an Assessment.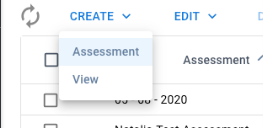 More: Click to view more options available for assessments. Allows the user to edit a user-created assessment's name, date, and any notes on the assessment. You can also delete any user-created or system-created assessments from this drop-down menu. You can lock and unlock assessments from this menu, as well.
Column Sort: Columns can be sorted ascending to descending and vice versa by clicking the column name. An arrow will appear indicating the current sort order if the column is sortable when hovering over the column title.
List View Columns: In the list view, users now have access to two additional columns: the type and status columns. The type will indicate if the assessment is user-created or system-created and the status column indicates if the assessment is locked or unlocked. Part of the new features with the Assessment list view is that system assessments are locked by default and can only be deleted. User assessments can be locked and unlocked except when the data is processing. 
List View Settings: Click this button to change the list view column's order, hide/show available page columns, and change the list view's appearance.
Settings: Under the list view settings, the user can choose what columns can be displayed, change the order of those columns, choose the number of records to be displayed, change row height, and reset the page back to the default configuration.